Lawmakers are considering a measure to legalize marijuana in the Maryland. The Marijuana Control and Revenue Act of 2015 will be discussed at a hearing before the House Judiciary Committee. The measure is sponsored by Baltimore Del. Curt Anderson (D) who is hoping the third time is a charm. Delegate Anderson tried twice before and both measures failed.
This year's proposal, like the others, would allow adults (21 years or older) to legally possess one ounce of marijuana even grow up to 6 plants at home. The bill would tax and regulate marijuana just like alcohol. It would require the State Comptroller to establish rules and regulations for the operation of cultivation facilities, product manufacturers and retailers. The proposed legislation would also create an oversight commission to monitor marijuana businesses. So what happens if this becomes law in Maryland? What impact could this have on your Maryland rental property. Here is how our Humboldt County, California office handles the situation.
Humboldt County, California is known as 'Marijuana County USA' for its prominence as a marijuana-growing hub.  More than one-fifth of the county's residents grow marijuana. What happens when you discover your tenants are growing marijuana in your rental property?
Lee Marvel managed his rental property himself when he discovered his tri-plex had been transformed into an elaborate marijuana growing operation. According to Lee, "The property was a catastrophe. They had turned all of the units into a marijuana production house. The walls they removed and unique renovations they made had ruined his complex of 3 rental units." Because Lee had moved out of state, he was unable to keep a close eye on his property. "My biggest mistake was not hiring Real Property Management when I moved to Arizona, as I was too far away to manage this property as closely as I needed," Lee said.
Darus Trutna, owner of Real Property Management Humboldt,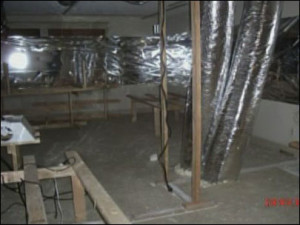 and his team of professionals took over management of the property 3 years ago and oversaw the rehabilitation of the home.
According to Darus, "When marijuana growers sneak their way into a property, they often cause large amounts of damage in a very short
period. As a Property Manager in Humboldt County, we work hard to ensure our clients' properties are protected from growers and other negligent individuals.   We conduct thorough background screenings and frequent property evaluations to confirm that the property is being maintained.
Medical marijuana is legal in California, recreational marijuana is not.  But because marijuana is not legalized under federal law, it trumps all state and local laws, further complicating matters. The federal government and states across the country are now dealing with legalization of medical and recreational marijuana and the widespread ramifications it creates.
Lee is thrilled with the service Real Property Management Humboldt provides. "They have been excellent and turned out to be the answer to my
prayers.  I really like the video clips they send me when they evaluate my rental property so I can see my rental property both inside and out."
All Real Property Management offices offer routine property evaluations, and often provide photos or videos of the evaluation to give you peace of mind.
We are pledged to the letter and spirit of U.S. policy for the achievement of equal housing opportunity throughout the Nation. See Equal Housing Opportunity Statement for more information.