Backyards in Waldorf aren't just about patio furniture anymore! Creating an outdoor living space can be easy, low cost and add value to your rental home. In fact, one of the biggest advantages to a single family residential home is the personal space found in a private backyard.  Simple enhancements will help your home rent quicker to quality tenants who will preserve your investment and pay a higher rent rate.  Here are some of our favorite patio furniture trends and backyard ideas for outdoor living spaces:
Fire Pit: A central gathering place enjoyed year round, a fire pit is one of the hottest trends in outdoor living. Surrounded by simple patio furniture or lawn chairs, you can buy a fire pit from the store or make your own, either one will be a hit!
Flagstone Grass Patio: A simple and easy weekend project, laying flagstone onto a small (or large) area in your back yard provides a great space for patio furniture. Your new patio will be easy to maintain and blend in with the surrounding landscape.
Cinderblock Bench Seating: An affordable alternative to buying patio furniture is creating a comfy bench situated up against a wall or sturdy structure. Placing a large cushion and pillows atop your stacked cinderblocks will be a big hit for your outdoor space this summer!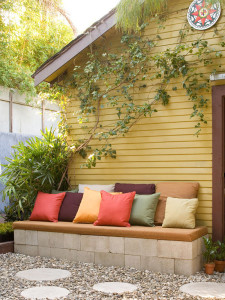 Dog Pool: Keep the pets cool while having a blast! Take the baby pool one step further for your pets by digging a shallow hole just low enough to
make the baby pool ground level, then finish it off by adding pavers or blocks. Guaranteed to be a great time for the pets!
Add Some Color: Found some old beaten up chairs at a local garage sale? Bring them back to life by spray painting them with beautiful summer colors!
For more outdoor living space ideas, check out our Pinterest page
What are some of your favorite trends for outdoor living spaces?
We are pledged to the letter and spirit of U.S. policy for the achievement of equal housing opportunity throughout the Nation. See Equal Housing Opportunity Statement for more information.